Teaser of the company
Kedeon makes grocery delivery more secure, transparent and trusted. It provides a solution that protects the brand image and reputation of the delivery services and helps to boost consumer trust and confidence. It helps to prevent the major health risks from food spoilage that are caused by cold chain temperature breaches during the last-mile delivery of perishable food products. The platform allows grocery delivery services to utilize purpose-built IoT sensors that enable real-time monitoring and alerts, as well as to provide transparent delivery information to consumers.
Kedeon has developed the following blockchain-based prototype in the scope of BlockStart:
Kedeon – Last-mile delivery monitoring
Kedeon provides transparent monitoring of last-mile delivery for groceries and food. Utilizing easy to implement hardware IoT modules that require little to no changes in the existing operations and minimal training. It allows to protect the company and reassures end-consumers. Its purpose-built platform works with existing workflow of companies and delivery personnel. By also enabling end-consumers to see transparent information they are reassured about the safety of grocery delivery services and this can be used for the publicity and marketing of the service (standing out from the competition).
Moreover, blockchain recording ensures data verifiability and enables to better prove liability in the case of breaches.
Technical development during Prototype stage
During the BlockStart programme, Kedeon developed a prototype of the new hardware temperature sensor units for the requirements of last-mile delivery services.
This includes battery-powered operation, the possibility to include other sensors, LTE-M/NB-IoT internet connectivity, and seed generation on the device for immutable data recording, as well as the successful deployment of smart contracts on Ethereum testnet.
Moreover, a Web3.js-based dashboard was developed to the needs identified during customer interviews, as well as a prototype of the end-consumer verification platform.
Business development during Prototype stage
During the BlockStart programme, Kedeon reached out to more than 35 SMEs in Latvia, and as a result, started the on-boarding of 5 interested companies. Now, with the help of BlockStart, the team is looking to expand its operations to other European countries.
Pilot stage implementation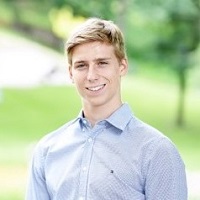 The BlockStart programme helped us to find the perfect target customer segment for our product, validate our technology, and test it with European SMEs. Our assigned mentor was a great help along the way, guiding us through all necessary documents and deliverables, making it a much more enjoyable experience.
Total funding received by Kedeon Solutions under BlockStart: €20,000 (€1,000 for Ideation Kick-off, €15,000 for Prototype stage and €4,000 for Pilot stage)