Teaser of the company
Birojs provides product delivery services in Latvia, incl. b2b delivery where it delivers to more than 6000 offices daily (birojs.lv) and it recently launched b2c brand (ertadzive.lv) where it deliver groceries and household items to end-consumers.
Birojs has tested, validated and adopted Kedeon's blockchain-based solution in the scope of BlockStart:
Last-mile delivery monitoring
Why has the company decided to implement the solution: Kedeon provides solutions that the company believes would help its daily operations. The company is also keen to play and test with technologies that will help its business, and blockchain technology has great potential.
Added value of the solution to the company: Birojs is especially interested in storing its delivery data in a way that will serve as proof both to customers and in the legal world, as well as provide this information to regulatory bodies. 
What has been done during BlockStart's pilot stage: The company put Kedeon's sensor devices in its warehouses to monitor the conditions of products that are stored and delivered to Birojs. Additionally, Kedeon installed devices in two of the company's delivery trucks.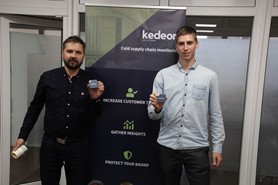 Blockstart is a very great program for SMEs to implement and test out some of the latest technologies and solutions. We were happy to join this program that helps to shape the future of  our industry and be one of the early adopters. Blockstart provides great communication and framework for us to work with technology providers.
Total funding received by A-birojs, LTD under BlockStart: €3,000  for Pilot stage