Teaser of the company
HOPU brings innovation through the latest technologies such as AI, IoT and Data-Quality. We are there to support decisions for environmental assessment and digital transformation through data-powered tools with dashboards, decision support tools and our genuine IoT devices to monitor (Smart Spot). It promotes platforms as FIWARE promoting on top of this added-value via data quality, cost-effective solutions and services to monitor gases, toxic substances, odors (VOC) and emissions from industry.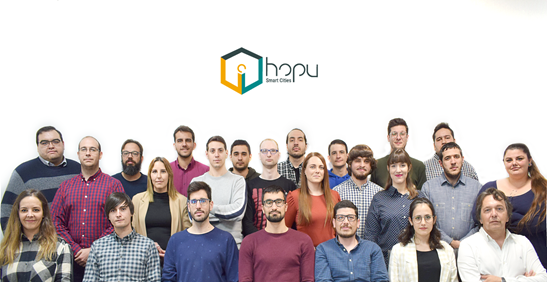 HOPU tested and validated the following blockchain-based solution in the scope of BlockStart:
Industrial emissions monitoring
"Enabling trust and reliability of IoT-based continuous monitoring by integrating certification via blockchain and a Policy Based Framework".
The prototype developed consists of an industrial emissions monitoring system, conceived as a Policy Based Solution (PBF) via Blockchain, certified IoT for indoor air quality monitoring, other heterogeneous data sources and visualisation tools (dashboard: dashboard example). The approach selected for the prototype is, specifically, to handle authentication and authorisation of carbon emissions through PBF in order to enable trustable and reliable data. Thanks to the proposed solution, customers will have an evidence-based value chain of their  emissions: monitoring – certification – recording and regulatory compliance – compensation / monetisation.
The main technical aspect resides in the integration of an alert register service based on blockchain in the industrial ecosystem. In this approach, two security services will be enabled: Ethereum (public and private keys) and PBF. Moreover, other contextual data will be integrated, as each competent administration issues the allowance of emitting an amount of CO2 emissions consistent with its economic activity as well as the total amount allowed in the country (Paris Agreement). 
Finally, it is expected that the SME adopters will implement the digitisation of their manufacturing processes for controlling their emissions via continuous monitoring and specific consultancy services to support them. By using the solution proposed by HOPU in BlockStart, companies will be able to finally generate Tokens / monetisation that ensure the reduction of their emissions as CO2 credits with an economic value on the market.
Technical development during Prototype stage
During the development of HOPU , the following technical developments have taken place:
Device and certificates onchain:

Translate off-chain certificates to on-chain. (In process)

Develop third party Certificates Smart Contracts.

Calibration process

Calibration Lab

Develop Device id Smart Contracts.

Internet of Things onchain:

Integrate IoT platform with Blockchain node.

Generate offchain rules for store onchain events.

Generate offtchain rules for store onchain statistics.

Generate Grafana dataSource for Dapp.

Generate Grafana panels.

Test the IoT Minimum Viable Product (MVP)

Calibrate devices.

Emit certificate.

Deploy devices.

Validate device events.

Validate device statistics.

The main features of the solution were conceived after previous experiences in pilots with industries, where real-time indoor air quality monitoring was performed. Definitely, after several iterations, HOPU has been able to advance and provide added value to the solution in the Blockstart ecosystem, adapting the features towards a value chain that consist of monitoring – certification – recording and regulatory compliance – compensation / monetization, where customers can not only digitize their processes but also to optimize and become then in a more sustainable version by integrating the comprehensive proposed solution with the following features:

Certified measurement via IoT indoor monitoring devices

Real-time emissions monitoring via dashboards

Registration and management of emissions via Blockchain ( digitization of industrial processes and certificates issuance)

Consulting services for assisting customers / users guidance (optional added value)

Access/ connection to third platforms to finally obtain sustainable tokens (monetization of carbon emissions reduction)

During the next 12 months HOPU expects to perform the pilots with Bersey and Horizer, as SMEs adopters and make a deep analysis of the performance. After the pilots stage, HOPU commits to continue collaborating with them in different ways:

Publication of success cases in different means of communications, blogs and journals at international level: HOPU will ensure the visibility of these companies as early adopters in terms of demonstrating the benefits they will obtain thanks to the integration of trustable and reliable IoT by integrating certification via blockchain.

Free use for the first year after performing the pilots to continue testing the solution and providing feedback.

Moreover, HOPU expects to launch to the market the proved MVP, which is expected to reach a TRL8 and:

Get in contact with stakeholders

Attend relevant events / fairs

Cold calls and emails

Design new dissemination materials to attract new potential customers

Schedule meetings with different stakeholders
Business development during Prototype stage
During the development of HOPU , the following business developments have taken place:
The target customers have been differentiated in two types: final adopters and intermediate adopters. The final adopters are large scale industries that individually will purchase the solution and require directly our services because of their needs to certify their emissions and the current emissions regulations. On the other hand, intermediate adopters are small  industries which have a low development of digitization of their processes but require our services due to their relationship with other large scale industries (they perform as suppliers) and are asked to integrate emissions certification of their processes to keep their relationship.

Revenue model and streams: our plan for generating the revenue is based on a B2C Business model supplying companies in the industry sector via direct sales and marketplaces, complemented with B2B to address market expansion via distributors/partners that integrate our solution as part of their offer. 

The fundraising strategy is based on recurrent revenues as part of the added-value services provided by our SaaS for data analytics of environmental data, and the consulting services to customize dashboards, and integrating the data sources required to adapt the solution to every individual needs. Current income streams are based on the sale of the solutions and consultancy services, which as a baseline has a cost between 15-30k€ (with an ARR of 15k€ and taking into account that the average LTV per customer  is 180k€, and is based on recurrent revenues as part of the added-value services provided by our SaaS for data analytics of environmental data to address climate change mitigation. In detail, HOPU is today in over 40 cities; with a turnover of over 1,2M€. HOPU is pursuing and promoting a scalable solution to take advantage of the SaaS and data economy as our major tractors.

The commercial presentation will be performed via different communication channels utilizing several marketing materials: on the one hand, potential customers will be identified in business databases by categories at regional, national and international scale and also will be reached via physical events and industrial clusters. HOPU will offer different audiovisual materials adapted to each target user: white paper (to raise their awareness and inform them in depth about the current issue related to carbon emissions and the offered solution), a video for a short presentation and leaflets to present the solution in general and, finally, live demonstrations via webinars.

3 new employees will be hired in January 2022 in order to boost the sales and marketing department at national level. The first profile will be focused on the LATAM market, the second profile will support our market entry strategy for Germany and, finally, the third profile will focus on the Arab region (as part of the Zakut programme in which HOPU is already participating).

Effort to validate your market/fit:

No. of potential adopters you reached out to:

HOPU has reached 6 SMEs adopters from different industries in the Blockstart ecosystem to perform de pilot.

No. of potential adopters you met:

as HOPU is already in contact with several industries at regional and international scale, 5 potential early adopters are currently interested in acquiring the solution.

No. of interesting prospects/leads you have acquired during Prototype stage:

HOPU has been directly in contact with 3 SMEs: Bersey, Horizer and Advanced Microturbines.

No. of pilots committed:

currently we have agreed to perform 2 pilots with Bersey and Hozier.

No. of clients committed:

3 clientes are currently highly interested and committed. Via Bersey, as consultants, they are directly in contact with potential customers, as the case of automotive industries. In this case, Volkswagen Barcelona's plant and SMEs that are their suppliers. On the other hand, Horizer has asked for further details of the solution in order to start not only implementing it in their use case but also offering as B2B2C solution to their customers-

HOPU is currently participating in the  Tech & Innovation HUB Zakut, thanks to which we expect to scale our solution internationally.

EMUEGO: is a global blockchain technology company providing solutions for developers, startups, enterprises and governments. EMURGO develops enterprise-grade applications, builds developer tools, invests in startups and provides blockchain education and advises on Cardano's decentralized blockchain ecosystem.

Future Digital Awards 2022

IoT Solutions world congress. Track: blockchain solutions world. Barcelona, May 10th 2022.

HOPU will be attending and participating actively in events at national an international scale:

#ACCELERATERegTech2022 5th annual, The RegTech Association eco-system event.

AI4CITIES: Accelerating carbon neutrality STAVANGER event December 6th 2021.

Paris Blockchain week summit 13th April 2021

Reset Connect London 2022. The UK's largest sustainability ecosystem and ESG investment gathering will take place 28-29 June 2022 at ExCeL in London
Pilot stage implementation
In BlockStart, HOPU implemented its "Enabling trust and reliability of IoT-based continuous monitoring by integrating certificacion via blockchain and a Policy Based Framework" product in 2 SME adopters
Horizer
CO2 emissions of token into a voluntary market based on the CO2 Marketplace guarantees the reliability and availability of data to all CO2 buyers
Main Goals:
Smart contracts
Monetization in form of Tokens system via carbon trading marketplace
Bersey
The solution provides specific recommendations to the user depending on the consumption in the consulted period. A service has been created that monitors the average consumption of all data to date. The user can search for the monitored data of interest in the history graph and check the exact value to which it corresponds.
Main Goals:
Emissions control (regulatory compliance) via IoT air quality monitoring devices (context and real time data)

Pollutant gases, noise, PM, temperature and weather

Emissions Reduction / Compensation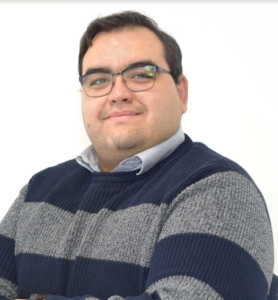 "Thanks to our participation in this programme, HOPU has been able to evolve and land its final prototype focused on enabling emissions monitoring based on a Policy Based Framework (previous experiences via pilots allowed to reach a TRL 6). The ideation of the MVP, which initially focused on the need to monitor indoor air quality, has now evolved to a more comprehensive added value and trustable solution, adding other valuable data sources on carbon emissions and emissions rights exchange (monetization/credits) via blockchain / certification. Finally, after the ideation and prototype stages, together with the different mentoring sessions with Blockstart mentors and other support from external experts, such as Alberto Ezcurra, from Bersey, HOPU has finally improved and adapted the final prototype to different scenarios. These scenarios are based on real needs detected in different industrial environments and their issues related to emissions control, certification and emissions trading and compensation, which are subject to their national regulatory framework."
Total funding received by HOP UBIQUITOUS SL under BlockStart: €20,000 (€1,000 for Ideation Kick-off, €15,000 for Prototype stage and €4,000 for Pilot stage)