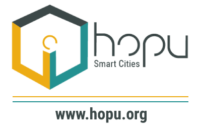 Air quality monitoring and climate change impact assessment
Murcia, Spain
Established in 2014
Teaser of the company
HOPU brings innovation through the latest technologies such as AI, IoT and Data-Quality. We are there to support decisions for environmental assessment and digital transformation through data-powered tools with dashboards, decision support tools and our genuine IoT devices to monitor (Smart Spot). It promotes platforms as FIWARE promoting on top of this added-value via data quality, cost-effective solutions and services to monitor gases, toxic substances, odors (VOC) and emissions from industry.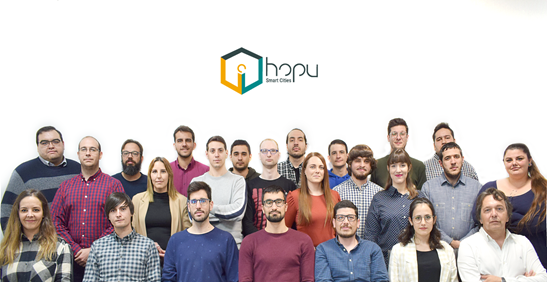 HOPU will test and validate the following blockchain-based solution in the scope of BlockStart:
HOPU works on decision-making of urban authorities and industry with efficient and sustainable action plans, through intensive data exploitation and monitoring with high-definition air quality monitoring devices
HOPU, as a company in the sector of monitoring and visualization of environmental indicators, seeks to offer quality data through Artificial Intelligence (AI) and the Internet of Things (IoT).
Its range of monitoring products is calibrated in the laboratory according to quality and traceability standards. Besides, the correlation of its data with reference stations reaches more than 90%. This ensures that customers make informed decisions. It also offers continuous monitoring with open technologies such as FIWARE's CEF Context Broker[1], which detects anomalies and events, as well as verify the compliance with regulations, calculate total emissions and provide an accessible/intuitive interface for the historical data access. HOPU is innovating in certification and transparency processes through the use of blockchain during continuous data monitoring. This process guarantees the composition of the emissions offered by its indicator visualization services from monitoring to visualization.
This technology allows us to demonstrate the reliability of the data provided by HOPU, detecting anomalies and events in the data. Besides, this process checks and certifies that the data is following the most demanding regulations.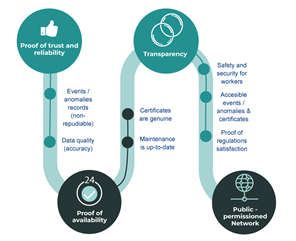 Using Blockchain as an enabler for transparency, trust and compliance
The integration with the blockchain technology has already started, using the B Besu Alastria network which is already regulated and congruent with the European network, and HOPU focuses the next step towards CEF ESBI (European Services Blockchain Infrastructure) also based on BESU, as an evolution of the Alastria network. This innovation will mean a further jump in the quality of HOPU services for Industry 4.0, where gas emissions suppose more than 7M of deaths per year in the world and more than 1,600M euros are dedicated to complying penalties for regulation non-compliance.
In the words of the CIO of HOPU, "the Blockchain is going to have a direct impact on our lives in the next years, the Digital Identity and the Regtech are going to be two of the pillars that will change our way of seeing things". 
[1] CEF Broker:  https://ec.europa.eu/cefdigital/wiki/display/CEFDIGITAL/Context+Broker
Total funding received by HOP UBIQUITOUS SL under BlockStart: €1,000 for Ideation Kick-off event