We are on a mission to accelerate emobility adoption by making Electric Vehicle charging accessible and convenient whilst achieving optimal energy distribution through our EV charging digital ecosystem

Bratislava, Slovakia
Established in 2019
Teaser of the company
Emobility adoption has problems of inadequate charging infrastructure & electricity demand imbalances for the grid. Our solution to this problem is an EV Charging Digital Ecosystem that comprises of Smart Chargers, an Energy Management System & a Digital Platform (powered by blockchain and AI/ML). This reduces the Total Cost of Ownership for charger owners and EV drivers whilst helping to balance the electricity grid. We are enabling a new EV lifestyle.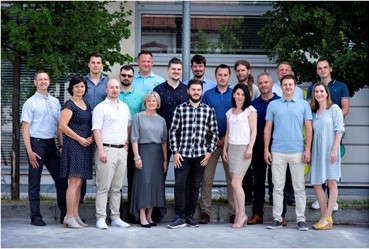 AgeVolt will test and validate the following blockchain-based solution in the scope of BlockStart:
AgeVolt Loyalty Token
The project output is a "White Label Loyalty Token", which gives a new unique functionality to the blockchain solution for AgeVolt Digital Platform, the EV charging platform. Our target groups are businesses and public/government entities within our ecosystem (eg retailers, hotels, restaurants, apartment houses owners, private/public companies, eg post office), who are the owners of EV charging points (EVCP). The EVCP operation and management is not their primary business and serves their internal needs. Our solution provides additional value for customers or employees of the EVCP owners by enabling them to charge their private EVs with personalised benefits. The branded loyalty token offers four different configurations of charging: i) faster; (ii) cheaper; iii) faster and cheaper; iv) free. Our solution will form the basis for further development of blockchain tokens for digital marketing and communication tools for EVCP owners, as well as source of our revenue.
Total funding received by Autech s.r.o under BlockStart: €1,000  for Ideation Kick-off event