Sale of fresh fish at the food market
Seville, Spain

Established in 2003
Teaser of the Company
Vision: To be the fish shop with the highest quality fish in the neighbourhood.
Mission: offer my customers a quality product and service.
Pescaderia Juan António has tested, validated and adopted Comunitaria's blockchain-based solution in the scope of BlockStart:
Comunitaria
Why has the company decided to implement the solution: For the progress of my store, it is important to innovate and test new technologies that can add value to my service.
Added value of the solution to the company: This solution increases the sales of fresh fish in my store, and also reduces electricity costs.
What has been done during BlockStart's pilot stage: In the pilot stage with Comunitaria, we have been able to sign agreements to share the energy produced by the solar panels installed at the church of Candelaria, Los Pajaritos.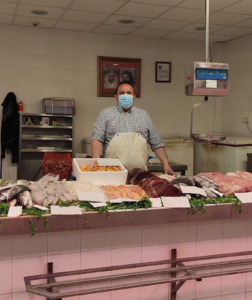 "I have been delighted to participate in this program, I have been able to learn a lot about technologies that I did not know and with which I have realized that they can bring a great value and efficiency to my small business."
Total funding received by Pescadería Juan Antonio under BlockStart: €3,000 for Pilot Stage