80 years of innovation looking for new, and better, ways to understand energy. We want to be the small-great company capable of taking energy to the next level. We cover different areas of energy: commercialisation, distribution, O&M, generation and new services.

Churriana de la Vega, Granada, Spain

Established in 1939
Teaser of the Company
We want to be the small-great company capable of taking energy to the next level. That's why we strive to promote advances within our own sector and always think of the user as the centre of everything we do. We are a local, family-owned company with a global spirit. We are a company that is honest, close, collaborative and where companionship is in everything.
User-centric in everything we do
Promotion of developments within the sector
Innovation as a fundamental part of our business model
Understanding energy beyond its traditional use
Cuerva has tested, validated and adopted Comunitaria's blockchain-based solution in the scope of BlockStart:
Comunitaria
Why has the company decided to implement the solution:Leveraging our experience in the energy sector and our knowledge of blockchain technology, we thought we could help in the creation of a sustainable self-consumption energy community where we can provide our services.

Added value of the solution to the company: Our collaboration in this solution goes beyond our economic benefit, as we also think about the value and image that it gives our company to participate in a project with great social impact as Comunitaria. Offering our services in something that will help many people and that will have a positive social and environmental impact in a underpriviledged neighborhood is very satisfying.

What has been done during BlockStart's pilot stage:During the pilot stage, we have reached an agreement with Comunitaria that we provide an energy measuring device that will allow us to measure the energy produced, consumed and sold.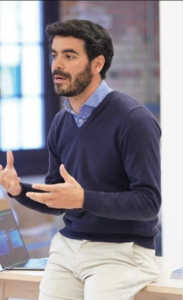 "Thanks to the BlockStart programme, we had the opportunity to participate in this project in collaboration with a great team like Comunitaria. It has been a great experience. The possibility to offer our services in something that will help many people and that will have a positive social and environmental impact in a underpriviledged neighbourhood is very satisfying. We are getting closer and closer to achieving our goals. We want to be the small-great company capable of taking energy to the next level, because innovation is a key and fundamental part of our business, and we understand energy beyond its traditional utility. That's why we strive to promote advances within our own sector and always think of the user as the centre of everything we do."
Total funding received by Montajes Eléctricos Cuerva, S.L. under BlockStart: €3,000 for Pilot Stage