We assist our clients in their transformation to ensure a positive impact
Rome, Italy
Established in 2012
Teaser of the company
We assist our financial institutions in their transformation, supporting them on implementation processes, committing ourselves to ensure a positive impact for our clients and our people.
Our Competency Areas are IT Advisory, Business Intelligence, Corporate Performance Management and Software Development.
b4bi has tested, validated and adopted LoanXchain's blockchain-based solution in the scope of BlockStart:
LoanXChain
Why has the company decided to implement the solution: Financial services, the main industry we are serving, is constantly evolving and blockchain based solutions such as LoanXchain are shaping the future of the industry.
Added value of the solution to the company: For us the collaboration with LoanXchain is a great opportunity to expand our service line, gain technological knowledge and provide our expertise to a new ecosystem.
What has been done during BlockStart's pilot stage: We performed tests on LXC capability to convert loan data from legacy system to platform database and provided feedback. We onboarded of one relevant B4Bi customer on LXC platform for a pilot transaction. Finally, we evaluated together with LXC the pilot transaction, with focus on performance and data quality of uploaded loans on LXC platform.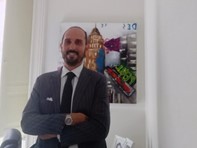 "Our participation in the Blockstart program as an end-user SME has certainly been very important and fruitful for many reasons. First of all, we had a chance to interact with developers and other users. This comparison has enriched our vision regarding the potential of the BlockChain. Beyond this, the program allowed us to identify a partner who helped us finalize our ideas. Finally, we believe that in this way it has been possible to start a path on which we will continue to work for a long time."
Total funding received by Brain for Business Innovation Srl under BlockStart: €4,500 (€1,500  for Ideation Kick-off event + €3,000 for Pilot Stage)