We are thrilled to share some statistics behind BlockStart's Open Call #3
BlockStart's Open Call #3 for DLT/blockchain startups closed on the 26th of May, with 116 finalized applications. The top 24 most promising teams have been selected to join the project's 3rd Acceleration Programme and are already on their way to shaping Europe's blockchain future.
This 3rd Acceleration Programme will be quite an intensive journey as our startups will further develop and implement their blockchain-based technology, together with selected end-user SME, and we are happy to present the statistics behind its Open Call.
Open Call #3 for startup developers
In total, 222 proposals were started and 116 were submitted (corresponding to a success rate of 52%).
The selection and evaluation remained a strict and demanding process, with the highest number of submitted applications coming from Spain (15), Italy (9), Portugal (9) and France (8).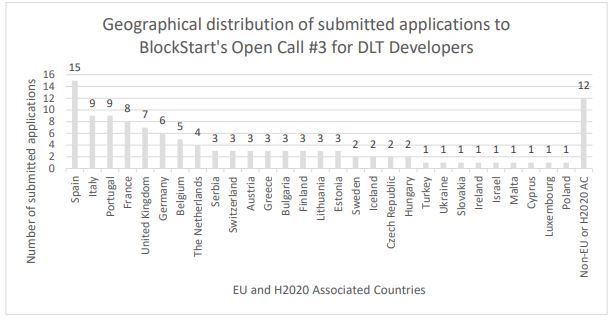 Regarding the three target sectors – fintech, ICT and retail – it can be stated that they were well covered by the submitted applications. Since applicants were able to choose more than one sector, 65 were in the scope of ICT, 54 on fintech and 51 on retail.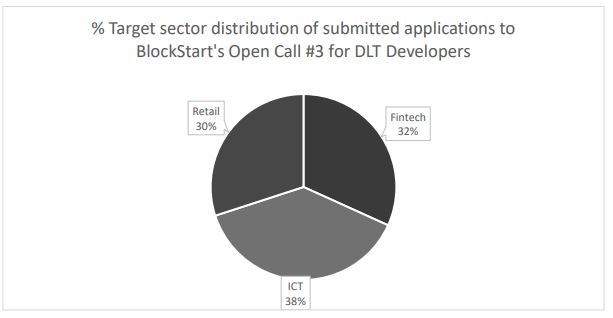 Take a closer look at our Infographic

Where to go next?
The top 24 selected DLT/blockchain startups were invited to participate at BlockStart's third and last Ideation Kick-off event in July 2021: a matchmaking event between startup developers and 10 end-user SMEs, that have previously applied to the Open Call #3 for end-user SMEs (1st cut-off date). For the first time, developers and end-users have the opportunity to initiate a conversation on available solutions and existing problems.
However, this online event was also about selecting which startup developers would be part of the 3rd Acceleration Programme and develop DLT/blockchain-based solutions. The top 24 startups thus had the chance to pitch their solution and how they were thinking about implementing it over the next 6 months and the 10 most promising and innovative ones were selected to enter the Prototype stage of BlockStart's Acceleration Programme – a 4 months stage in which they will receive business and technical mentorship to achieve product/market-fit.
Stay in touch and follow up
For more information, join our community on F6S, subscribe to our Newsletter and follow us on social media: Facebook (@BlockStartEU), Twitter (@BlockStartEU), LinkedIn (BlockStartEU) and Telegram (t.me/blockstart).