Shipping Platform that uses AI for freight search, data processing &  automation of workflow
Antwerp, Belgium
Established in 2016
Teaser of the company
Imagine a platform that allows you with instant search of the best shipping for any cargo regardless its  type, shape, quantity or destination? Shipnext is a solution that uses AI to help with instant freight  search, shipping data management, email processing, trade and workflow automation.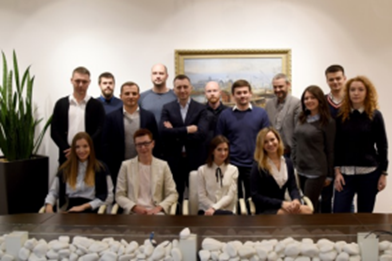 Shipnext test and validate the following blockchain-based solution in the scope of BlockStart:
Shipnext Supply Chain Ecosystem
Shipnext has two use cases of Blockchain technology, as part of its aim to create a  SupplyChain ecosystem. Through digitalisation of Freight matching, and data  processing, Shipnext takes both contracting parties, the Shipper and the Carrier, into a  Contractual relationship – Charter (Contract of Carriage). The use of the Platform  allows to provide a time stamp, a proof of ownership of the Cargo and the Ship, and  transfer this contract into a Smart Contract using DLT technology and  interconnectivity between multiple signatories and digital data-flows.  Blockchain is further used in creating the Ecosystem through the use of nodes that  would serve a dual purpose, both providing data-security as well as a cross-verification  of true data, to be further used in the optimisation model and the data-processing  algorithms.
Total funding received by Shipnex BV under BlockStart: €1,000  for Ideation Kick-off event