Teaser of the Company
We provide cloud-based software to help the insurance industry digitally transform their claims processes in the cloud.  Our insurtech marketplace contains plug&play solutions and APIs from an eco-system of 50+ best-in-class insurtechs, whilst our no-code/low-code design tools accelerate the shift from manually processed claims to zero-touch automation in the cloud.
Claim Technology has tested, validated and adopted BlockFrauds blockchain-based solution in the scope of BlockStart:
Why has the company decided to implement the solution: Blockchain is well suited to a fraud bureau service where data from across multiple market participants can be shared anonymously in a de-centralised database.
Added value of the solution to the company: Fraudsters are costing the insurance industry billions. Implementing more efficient and effective fraud detection technology can reduce premiums and improve end-customer value, service, and experience. In turn also providing better protection and cost savings for insurers.
What has been done during BlockStart's pilot stage: BlockFrauds technology is changing how insurers detect and manage fraudulent claims. The technology enables voice files and images to be cross-checked against the same or similar digital assets being used on another claim with another provider, helping to identify potential fraud. We have defined a set of API specifications that BlockFrauds can use to expose their service, enabling us to send voice and image media to the service and receive return results in near real-time, enabling us to automate claims processing with behind the scenes fraud checks.
Claim Technology's achievements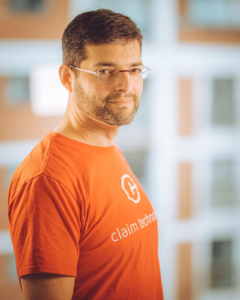 "We have welcomed the opportunity to connect and integrate with companies via BlockStart, and look at how blockchain-based solutions can meet the need for the secure sharing of data between market participants to allow for faster and more automated claims settlement processes."
Total funding received by Claim Technology Limited under BlockStart: €3,000 for Pilot Stage